My latest book is Right Kind of Wrong: The Science of Failing Well.
Just selected by the Financial Times as the Best Business Book of 2023
We're torn between two failure cultures. One says failure "is not an option" and must be avoided at all costs. Another advises us to "Fail fast and break things." Neither is particularly helpful! Instead, we need to reframe how we understand failure and learn to recognize the crucial distinctions that separate good failure from bad.
Professor Amy C. Edmondson
Novartis Professor of Leadership and Management at the Harvard Business School.
My research examines psychological safety and teaming within and between organizations. I am particularly interested in how leaders enable the learning and collaboration that are vital to performance in a dynamic environment.
(Most of) Amy's other books
The Fearless Organization is a book that every leader should read and heed.

Daniel pink, author of when and drive.
Packed with insight and cutting-edge research.

David Gergen, Senior Analyst, CNN and advisor to four US presidents.
Edmondson offers compelling new paradigms for team performance in the 21st century.

Doug Conant, retired CEO Campbell Soup Co.
Bio & Awards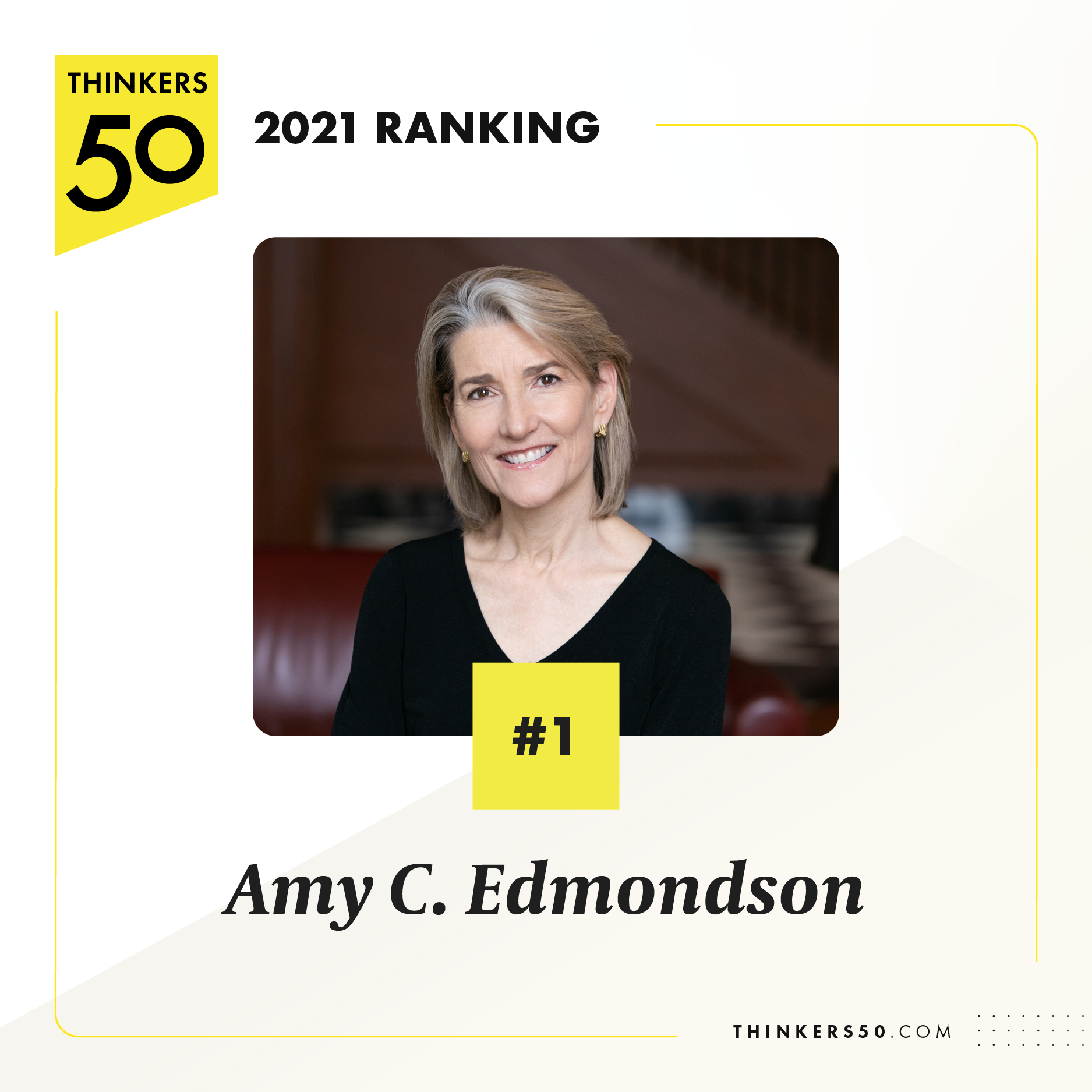 Amy Edmondson
Amy C. Edmondson is the Novartis Professor of Leadership and Management at the Harvard Business School, a chair established to support the study of human interactions that lead to the creation of successful enterprises that contribute to the betterment of society.
She is the author of 7 books and over 60 scholarly papers, published in academic and management outlets, such as  Administrative Science Quarterly,  Academy of Management Journal,  and Harvard Business Review.  She is a sought-after keynote speaker with a worldwide following.
Ranked #1 on the latest Thinkers50 ranking of the world's most influential management thinkers.
Winner of Thinkers50 Breakthrough Idea Award for being a "pioneer of psychological safety and author of The Fearless Organization, a ground-breaking blueprint on creating a fear-free culture."
Winner of the 2019 Distinguished Scholar Award from the Organization Development and Change Division of the Academy of Management.
Named the Most Influential International Thinker in Human Resources by HR Magazine in 2019
The Fearless Organization: Creating Psychological Safety in the Workplace for Learning, Innovation, and Growth (John Wiley & Sons, 2018) has been translated into more than 15 languages and is consistently among Amazon's top-sellers in the human resources category.